Big Fat Daddy's end of season.
It's that time of year when the fairs and festivals wind down on the East Coast. I know when the football season is here, it's time for me to relax and kick back enjoying some great football parties with my friends and family. When I get asked of things to "bring" or "cook" for the party, I often find myself often thinking of what I was serving at the fair. Here's my ideas for a football party!
Big Fat Daddy's serving traditional Fair food!
Ten Easy Things to Have At Your Football Party (Game Time):
Main Entrees:
1. Angus Burgers:
Instead of going with regular old ground beef, find some great quality Angus and pat those patties thick. Sprinkle yoru favorite seasoning on them and top them with barbecue sauce, fried onions and peppers for a texas taste! Buy potato rolls or small size buns, to make the burgers appear even larger than life!
2. Buffalo or Bison Sliders:
Bison is much more expensive but yield is pretty true to size. Grill up some Bison mini sliders and have your friends wanting more. I love to sprinkle real crumbled blue cheese on top and throw a dash of hot sauce on for a differnet taste. I use small slider buns for these.
3. Pork BBQ:
Prepare this your favorite way using whatever cut you desire. Add your own touch by adding your favorite sauce! This is quick and easy to reheat for the party, and if you have leftovers great to take to work the next day! Small to medium sandwich rolls will help you guests sample a bit of everything!
4. Beef BBQ:
A different version of a tradional dish, try making your favorite pork bbq recipe but by using beef. If you don't have time to grill or broil, you can simmer down a chunk of top round or rump roast to pull for this! Serve with small to medium rolls so your guests may not fill up on just one thing!
5. Dinner Roll Sausages:
We love getting Hatfield's rope sausage and pre cutting them into portions, and tossing in fresh grilled onions and peppers. We slice these in 3" strips diagonally so they are just about long enough to hang off of a dinner roll. Why fill up on steak or sausage rolls when you can use dinner rolls and get a great taste of sausage without all that bread? Small enough to eat a few and big enough to satisfy your craving for sausage!
Drinks, Desserts and Sides Items: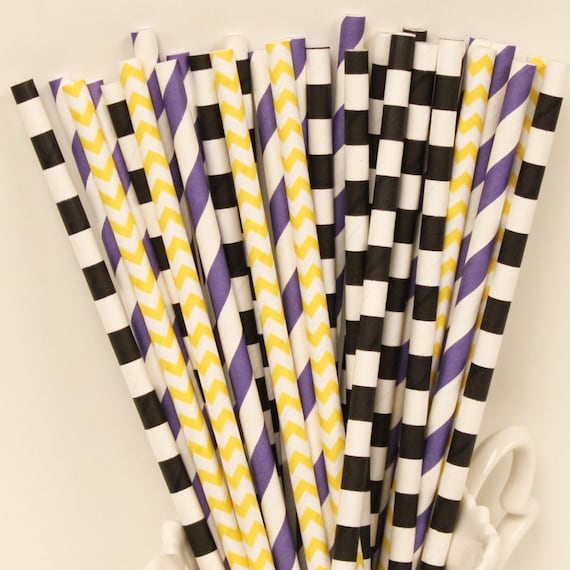 My team colors are represented here by the Party Fairy, 30 straws, $5
6. Straws:
Attention to small details will get you big points with the kids and ladies in your party. Anyone who isn't drinking beer will want to try a team straw. These are easy to find on Etsy, and you can stock up on your favorite team colors. The set above, is for the Baltimore Ravens!
7. Ice Balls
are a must-have at a winter Football party! These are made ahead of time from easy to use molds, then individually sat into a team ice bucket. The balls are 2.5" across and bob around in your favorite team glass. This keeps the need for ice down in drinks. Get the
Ice Ball Molds here
. Did I mention this is a great conversation piece?
8. Chips, Peanuts, Pretzels:
To cut back on overeating of snacks, try serving them in these little "football" snack trays. You can download the pattern to your computer on Etsy and have your wife and kids making them up ahead of time!
Buy Download here.
9. Football Cookies :
Simple Oreos have been transformed into footballs then dipped in chocolate. If you don't want to make your own you can find them, special order 9 for $9 at SweetStephanies on Etsy.
10. Cupcakes:
I love to cheat on these and if we don't have time to whip them up simply get store bought, but the kicker here is that you can
eat the footballs.
Unlike the plastic picks, these are actually made of edible fondant and available at the store above!
You will be the talk of the party, even if your team does lose.....
You may also enjoy reading my
BBQ Party Ideas.
Did you hear that
Hogging Up is coming to West Virginia?